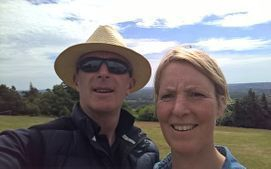 Becky and Declan Cullen directors of Cullen Equine Solutions. Living in Gilford Co Armagh N.Ireland with their daughter Kitty. Both of them winning international riders in eventing and competed throughout Europe from 1 star to 4 star level. Becky represented Ireland at the 2003
Europeans Championships in Punchestowns with her fabulous x country horse Wee Hot Toddy . The partnership also went clear at very wet Badminton 2004.And noteable was leading Irish rider at both Mondail De Lion and Beokleo 3 day events and was only 1 of 2 riders inside time clear at Saumur 2003.
As a Level 2 HSI coach much time and focus is dedicated to training, coaching at home and is current Manager of the Irish Pony Eventing Team . Becky still competes herself at dressage with Declans former 3 star horse Glenhill Gold
Declan came from a showjumping background and loves all sport holding 3 championship medals for Collegeland GFC in Co Armagh .The interest in eventing began after spending time training with Hansule Smuthz (European Eventing Champion) stables in Basil Switzerland 1998. His first 3 day event was in 2002 at Necarne Castle, where he went on to be the only Irish winner in 2005, winning the CIC*. He has produced a number of horses that competed at Le Lion d'Angers, the World Breeding Championship for event horses CHH Allure and The Irish Scot . Best know horse was Glenhill Gold winner of the Ballindensik CCI***
Declan is a Equine Brand and Feed Consultant and was the equine feed consultant for Horse Sport Ireland for 7 years, working with Ireland's high performance squads for 2 World Equestrian Games and 2 Olympic Games. The Beijing Olympics had many challenges in Hong Kong; principally transporting feed and forage from Europe
and his contacts with the official suppliers Kentucky Equine Research , where he was called to assist Horse Sport Ireland with Team Ireland's diets feeding arrangements
Both Declan and Becky's talents is delivering training coaching and business strategy planning services with the highest levels of customer satisfaction
– we will do everything we can to meet your expectations and achieve your goals .
With a variety of offerings to choose from , we're sure you'll be happy working with us. Look around our website and if you have any comments or questions, please feel free to contact us. We hope to see you again! Check back later for new updates to our website. 
Dedicated to delivering your goals, through focused planning

* Proven success
* Empathy
* Honesty
* Professional
* Approachable