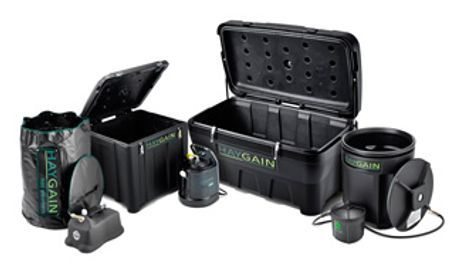 Haygain, the world's leading method of steaming hay From the team with a wealth of experience and a proven patented formula.
Haygain hay steamers were developed over a number of years after Brian Fillery was inspired by experience with his own horses coughing. Steeped in history and heritage the Fillery family have developed and manufactured products involving steam since 1936.
During the mid-1990's a team of experts led by Brian and co-director Tim Oliver matured the concept into a scientifically proven reality.
Two European and American have been granted, with… further patents granted worldwide, for the steam distribution manifold system which is key to Haygain's unique and proven method of steaming hay.
This distribution method injects steam into the centre of the bale or mass of hay or haylage and steams it from the centre outwards. Research at Royal Agricultural University has shown that steaming at the high temperatures achieved in Haygain steamers kills all the bacteria and mould and reduces the respirable particle content by >95% so it the best option for providing 'clean' forage.
Haygain is the only scientifically proven system to kill mould spores including Aspergillus, as well as bacteria and dust mites. The nutritional value and goodness are maintained with improved palatability.
Haygain is truly global in its quest to improve the wellbeing of the horse with a growing network of specialist distributors around the world.
The Haygain hay steamer range is now available in four models.
For more Information and advice on Haygain and arrange a demonstration or discuss managing your horse's respiratory and digestive requirements, please call either
Contact Declan: ++44 (0) 7710883088
Join with some of Ireland's leading Trainers and Riders: 
Michael O Callagahan
Johnny Murtagh 
Barry O Connor 
Brian Hamilton
Golbal Event Horse and Brian Morrison
Dermot Lennon
Joan Sloan Allen
Sycamore Stables
John Costello
Dermot Costello
Sheila Lavery
Thomas Gibney 
Colin McBratney 
Noel McPaharlan 
Gavin Cromwell 
Marshall Watson 
Peter Maher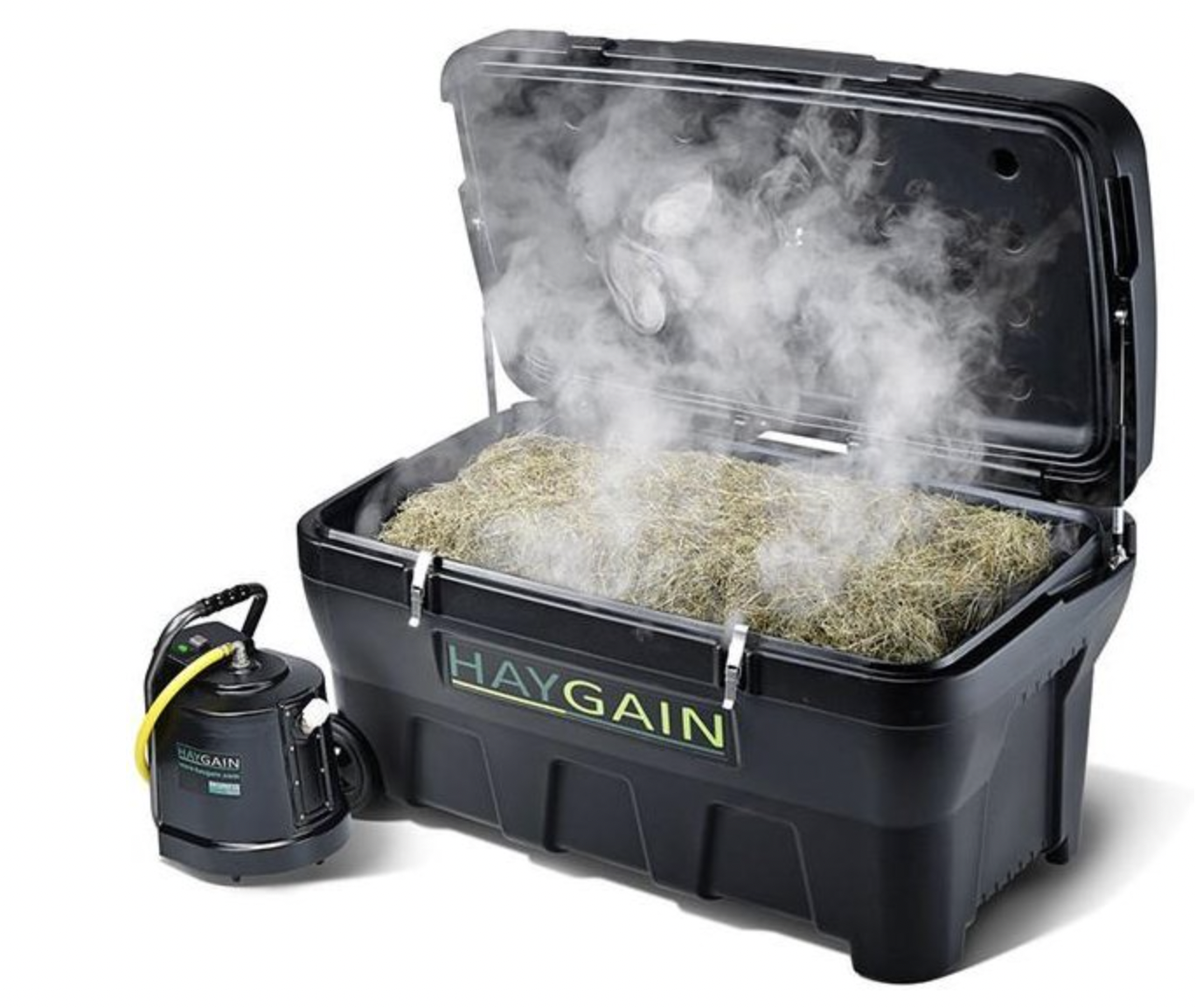 The HG2000 is ideal if you want to steam standard strung bales or larger quantities of hay, so perfect for yards.

The Haygain HG2000 features the patented steaming method, 'from the inside out.' Capable of holding a small strung bale of hay or up to 35-40kg of loose hay or haylage. Thermally insulated and sealed, the double-skinned container allows very high temperatures to be reached in excess of 100°C, critical to kill harmful fungal spores and bacteria in hay.
Double skinned and thermally insulated to reach and maintain the critically high temperatures required
Robust construction to withstand the demands of even the busiest of yards.
All fittings and fastenings are either brass or stainless steel so do not corrode.
Commercially rated 2.9 KW, 8 litre capacity boiler with safety features, capacity indicator and quick release steam fittings.
Weather proof and UV protected.
Steaming cycle from cold approximately 50 – 60 minutes.
Dimensions: L x 1449mm D x 815mm H x 750mm
The Haygain HG-600 accommodates half a small strung bale of hay or up to 15kg of loose hay, haynets or haylage. It is ideal for smaller yards and for use away at competitions. The unit is extremely durable and easy to move around, whether in use at the stables or whilst travelling. The HG-600 is most suitable for owners with 1 to 4 horses.
With latest technological advancements and patented design the HG-600 cycle time from cold is 50 minutes, making the process fast and efficient.
It features the patented steaming method, a five-prong steam manifold which penetrates the hay enabling steam to diffuse outwards through all the hay.
Haygain hay steamers are a range of scientifically-proven hay steamers that produce palatable, dust-free hay, helping maintain a healthy respiratory system to enhance performance. Haygain's patented steam distribution manifold system ensure even, thorough steaming throughout all of the hay. Learn more about…How Haygain works.
Fit for purpose they are designed to be effortless and simple to use; a relief for those suffering with back problems. Savings and benefits beyond your horse's health become evident in potential reductions in vet bills, forage costs, water if you currently soak and potential competition overheads due to inability to perform through coughing or suchlike.
Accommodates half a bale or equivalent in loose hay or haylage/haynets.
Double skinned and thermally insulated to reach and maintain the critically high temperatures required.
Robust construction to withstand the demands of even the busiest of yards.
Sloping profile makes loading the bale very easy with minimum lifting involved.
All fittings and fastenings are either brass or stainless steel so do not corrode.
Weather proof and UV protected.
HG-PB steam generator 2.9 KW.
Steam cycle from cold approximately 50 minutes
Dimensions: L x 720mm D x 690mm H x 700mm
1 year warranty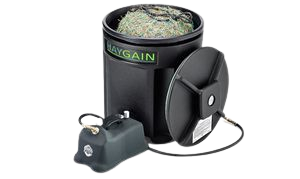 The NEW HG-ONE has been added to the range due to popular global demand.
The HG-ONE is ideal for everyday use on the yard and is great to take to shows due to its lightweight and compact design. It has been created to feed one horse and will hold approximately 8kg of forage either in a net or compact wedges.
The HG-ONE incorporates all the renowned features that make Haygain the trusted brand it is and includes the Haygain patented 5 spiked manifold. This enables steam to penetrate the centre of the forage outwards at temperatures in excess of 100ºC to eliminate respirable dust and kill all fungal spores and bacteria without nutritional loss.
Quick and easy to use The HG-ONE steams forage in 60 minutes thanks to a 1.5KW steam generator with a water capacity of 3.5 litres which will be sufficient for one steaming cycle.
It features a stainless steel boiler shell and the heating element is outside the boiler thus reducing damage from scale and extending the life of the element considerably.
The lid is double skinned for exceptional strength and thermal efficiency in all ambient temperatures without compromising performance. The lid has been designed with pockets to allow the condensation to evenly fall back onto the hay.
The Haygain range outperforms all other hay treatments, eradicating soaking hay, whilst saving energy and running costs due to their thermal efficiency and design, and reduces wastage to a minimum.
*Please note that this product is only available for delivery in the UK.
Cleans – Descales – Restores
Clean your Haygain steam generator regularly with Propress Descaler to keep it limescale and trouble free.
Limescale forms on heating elements and surfaces due to calcium found in water. This decreases performance, increases running costs and shortens the life of the element. Descaler will help remove the limescale.